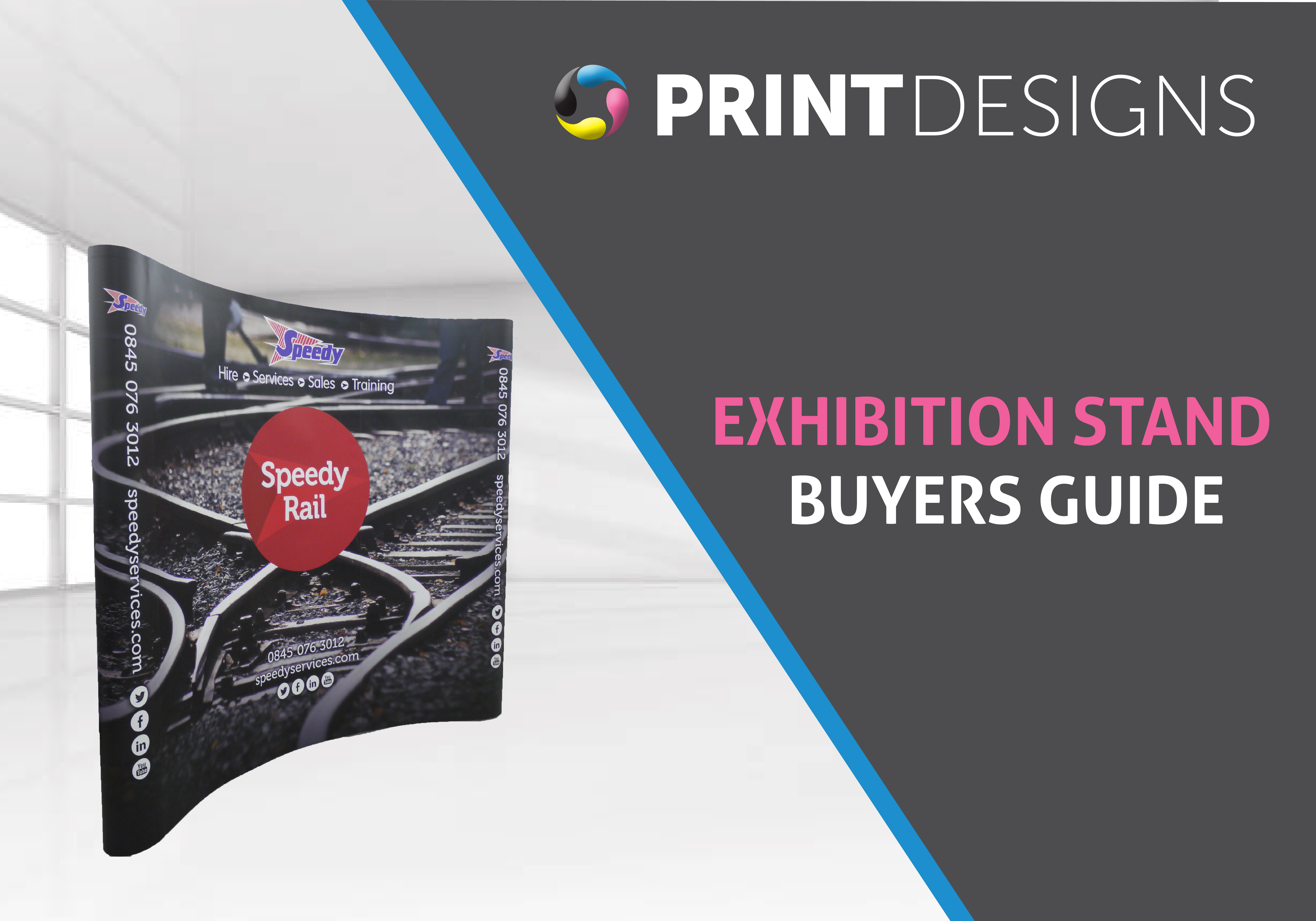 The term 'exhibition stand' applies to a broad range of display products, generally used in exhibition and trade show settings. Being such an all-encompassing term relating to hundreds of products, it can make buying an exhibition stand confusing and daunting – especially for first-time buyers.

Guide Contents
To help you navigate through the process, we've created our Buyer's Guide to make choosing your stand as quick and easy as possible. So, what do you need to consider when buying an exhibition stand?
Exhibition Stand Glossary
Reconfigurable
A reconfigurable stand is one that can be altered and manipulated to fit different sizes and shapes of exhibition space. These stands are usually comprised of a number of smaller displays that join together to form one stand.
EXPLORE RECONFIGURABLE STANDS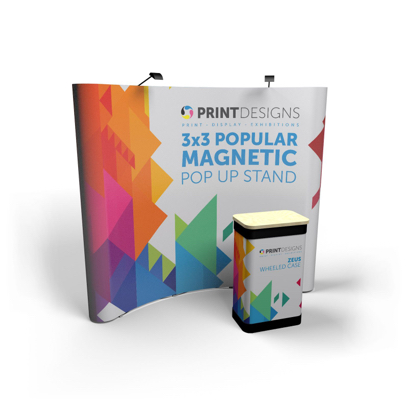 Shell Scheme
Shell scheme is a term used to describe the interchangeable, modular stand system used in exhibition halls to separate exhibitors. The basic frame allows for graphics to be attached, and the area (usually less than 20 square metres) can be customised with accessories. A shell scheme can have one, two, or three walls depending on the location within the hall.
EXPLORE SHELL SCHEMES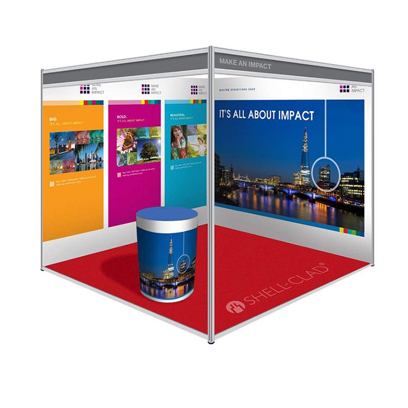 Modular Exhibition Stand
A modular stand is typically supplied as component parts that can be combined to create displays of varying sizes and shapes. Modular exhibition stands offer a bespoke appearance but are lightweight and portable so they can be self-assembled without the need to employ specialist stand contractors.
EXPLORE MODULAR EXHIBITION STANDS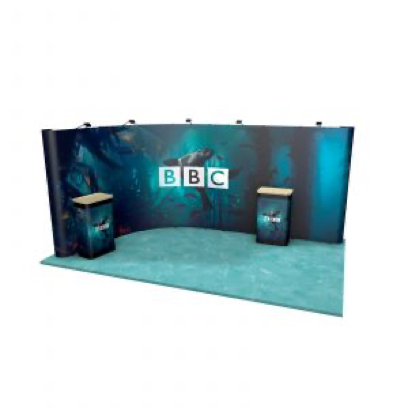 2
What is an exhibition stand?
The term 'exhibition stand' describes a type of promotional display, usually comprising of a branded, printed material attached to some form of frame. The complexity of these stands can vary, from a simple roller banner, to a comprehensive modular display system.
The type of stand you choose will depend on your requirements, taking into consideration factors such as the floor space and location of your stand, your budget, and what you'd like to achieve with your display.
3
Types of exhibition stand
Roller Banner Stands
Also known as pull up banners or roll up banners, Roller Banner Stands are generally small displays that can be used alone, or as part of a larger display. These banner stands generally use a spring tensioned mechanism inside the base. A printed, rollable strip of material is then pulled up from the base and secured with a pole. Banner stands with detached graphics are also available and are assembled frame-first, with the graphics being attached afterwards. This allows for quick and easy graphic changeover.
Small and lightweight
Quick and easy assembly
Low cost = great ROI
Reusable
Freestanding
Portable
Available in a range of widths
Fabric Display Stands
Consisting of a lightweight frame and seamless fabric graphics, Fabric Display Stands combine the practicality of a traditional banner stand, with the impactful, large-scale visual of a pop up display. Fabric graphics can be printed in one piece at huge sizes, yet they remain convenient for transport as the graphic can be folded. Fabric displays are not only practical, they also look stunning as there are no seams or joins in the display. Illuminated Fabric Stands are also available which make for an unmissable, eye-catching display.
Easy assembly – no tools required!
Compact storage
Eco-friendly graphics can be recycled
Many of our fabric graphics are machine washable
Portable and lightweight
Pop Up Displays
Pop Up Displays use a collapsible, aluminium frame to support a series of rollable graphic panels. Panels attach to the frame magnetically in sections and create the appearance of a continuous, mural-type display. Highly portable, many of our pop up displays can be packed away into a single-wheeled transportation case that also turns into a desk/podium table. This makes them a popular choice for exhibitions and trade shows.
Compatible with a range of accessories
10 year manufacturer's warranty on all pop up displays in our range
Crease and scratch-resistant graphics
Floodlights included with many of our models
Single person assembly
Shell Scheme Graphics
Shell Schemes are used widely to divide up hall space into smaller booth areas. Most shell schemes consist of a series of upright aluminium posts, connected by horizontal beams. It is the responsibility of the exhibitor to provide the graphics and any accessories required to decorate and furnish the space.
Easy application
Reusable
Space-saving due to being graphics only
Ideal for first-time exhibitors
Panels available in various rollable or rigid materials – PVC, laminate, fabric, honeycomb card
Modular Exhibition Stands
Ideal for regular exhibitors, Modular Exhibition Stands (or modular display systems) are made up of numerous connected components/stands to make one big display. These systems can be reconfigured to create displays of varying sizes and layouts, making them a popular choice for those who regularly use different sized/shaped spaces.
Visually impressive
Adaptable/reconfigurable
Cost-effective to regular exhibitors – excellent ROI
Versatile
No need to employ stand contractors for assembly
Press Walls
Press Walls (also known as media walls or step and repeat banners) are a versatile, cost-effective option for creating a large, branded feature wall. Ideal backdrops for photo opportunities, this type of display offers a great alternative to traditional banner stands.
Cost-effective
Quick and easy assembly
Reusable
Lightweight and portable
4
What size of exhibition stand do I need?
The first thing to consider is the exhibit space you have available. It is a good idea to map out your space, including where your stand will be positioned. Are you exhibiting in an open space where you would benefit from a double-sided or island stand? Do you have space to add walls to your stand to create more of a focal area for your business?
You can filter our range of exhibition stands by size and number of walls required using the filter options on the page.
You can then think about adding any other features and accessories. Ensure that you include everything you need to achieve your goals, whilst also giving visitors enough room to feel welcomed into your space.
5
Exhibition stand accessories
Choosing the right stand is important, but capturing your audience is in the details. There are a whole host of accessories available for you to utilise to help you achieve your goals. These will help to enhance your stand, whether it be visually or practically. Do you have products or literature to display/offer? Will you be using technology such as tablets or monitors? Is your display lit sufficiently?
6
What features to look for in an exhibition stand
Easy assembly
Ensure your stand can be assembled by the number of people who are attending the exhibition or trade show.

Lightweight and portable
Can you easily transport your stand to the exhibition? Consider whether it will fit into a car, or be easily carried/wheeled to and from public transport. Where will you store your display when not in use?
Reusable (and replaceable)
How frequently will you be exhibiting? Do you need a printed material with more durability? Can you replace the graphics if they get damaged or need to be updated?

High-resolution graphics
All graphic panels are produced in-house using the latest digital print technology with resolution capabilities of 2400 x 1200 dpi.

7
Provide your artwork or use a graphic design service
Providing your own artwork
Design templates and general guidelines for each display are featured under the Downloads section on the applicable product pages. Check out our Artwork Guidelines page for information on how to send us your artwork.

Using the Printdesigns graphic design service
If you can't provide us with ready-to-print artwork and need some support, we can offer a full artwork design service at a competitive rate. Simply send an email to [email protected] outlining your requirements in as much detail as possible and we'll come back to you as quickly as we can with an estimate.
If you have any logo files, pictures or other content that you want to include in the design of your graphics then please send the files to us along with your design brief and we will check to ensure that they are suitable for inclusion in the final design.

8
Why choose Printdesigns?
Personal service
Unlike large companies, we pride ourselves on providing a personal service to all of our customers. We are always on hand during normal working hours for any support you may need.

Small or large orders requirements accommodated
Whether you're looking for a single banner for a display or a run of banner stands to distribute between multiple premises, we're happy to meet your needs.

Best price promise
Found the same product advertised cheaper elsewhere? Let us know and we'll aim to beat that price (T&Cs apply).

Minimum 12-month warranty
All of our exhibition display stands are backed by a minimum 12-month warranty, with further warranty options available.

Trusted supplier
We are the supplier of choice for many, from small businesses to confidential trade work for agencies and print management firms.