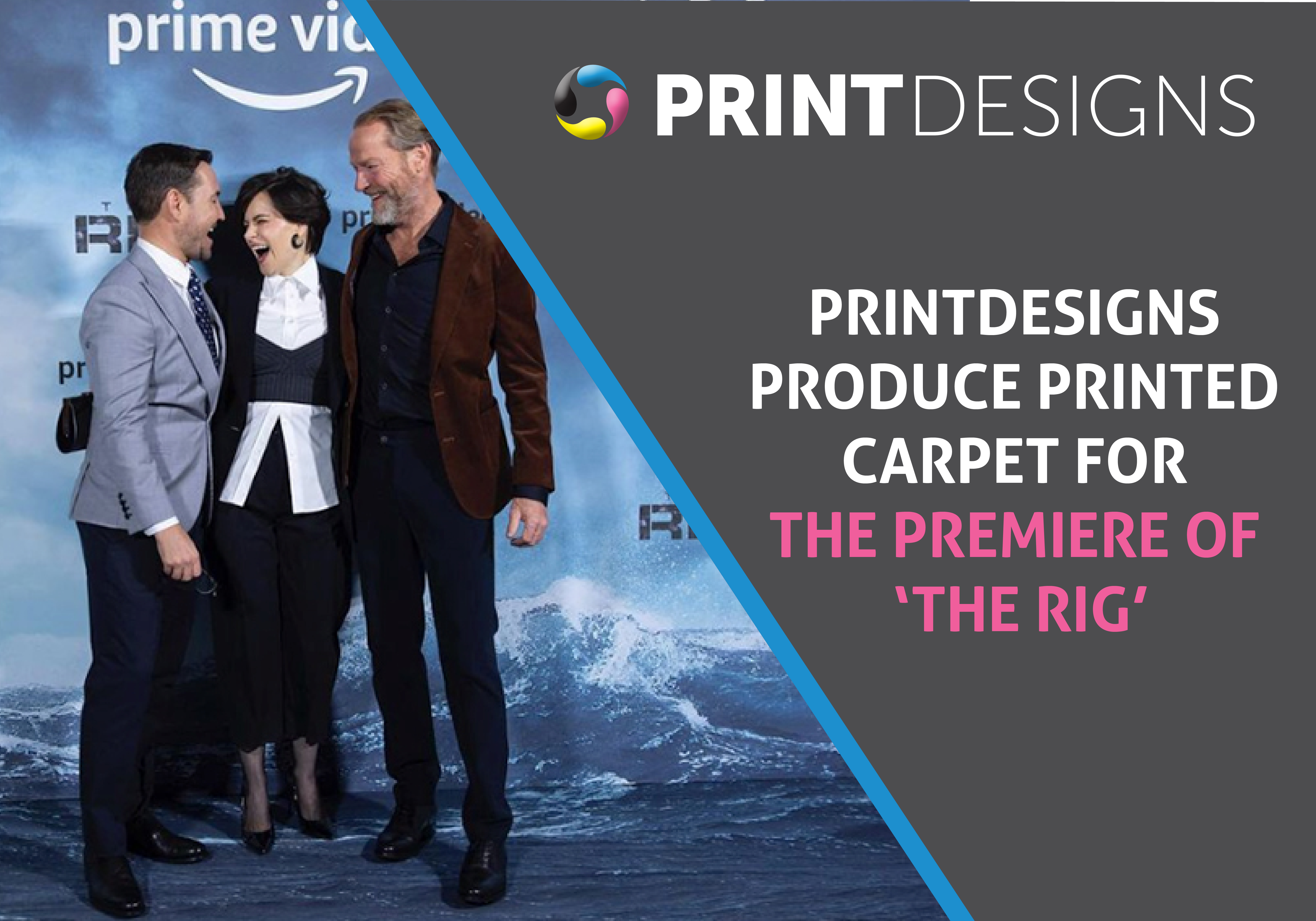 Rolling out the Blue Carpet!
Back in November of last year Printdesigns were given the pleasure of producing a custom printed carpet to be used at both the Edinburgh and London Premiere of Amazon Prime Video's latest series 'The Rig'.
The 2m x 8m Printed Carpet was printed with an image of a rough sea and formed part of the set for the Premiere alongside a printed backdrop and a built up platform.
Printdesigns custom printed carpet is idea for use at exhibitions, events or for use in retail spaces. Unlike other plasticised printed floor coverings, our carpet has a soft felt pile with 2mm thickness providing a natural, non reflective look and feel.
Our carpet is printed digitally using a dye sublimation transfer process whereby ink is dyed into the polyester fibres of the material rather than being dried on top.
Digital printing allows us to print any design onto the material with no restrictions as to the amount of colour that can be used, the dye sublimation printing process means that the printed carpet is very hard wearing and durable being waterproof and UV stable.

Printed carpet material is perfectly suited for short-medium term use in almost any indoor environment such as exhibition and retail spaces. It can also be used for promotional 'red carpet' events too like 'The Rig' Premiere!

The carpet is made from a 100% polyester pile, bonded to a gel foam backing that gives the carpet a total thickness of 2.65mm. The grey foam-gel backing is non-slip and will not cause marking of damage to any pre-existing floor surfaces.

We offer printing from the roll at widths up to a maximum of 3M. It is possible to join multiple sections of carpet using adhesive carpet tape in order to fill larger room spaces and areas.

Printdesigns can also offer bespoke contour cutting of printed carpet to almost any size and shape in order to create interesting focal points within a space.

If you would like further information please contact us at [email protected] or on 01785 818111 and we will be happy to help!