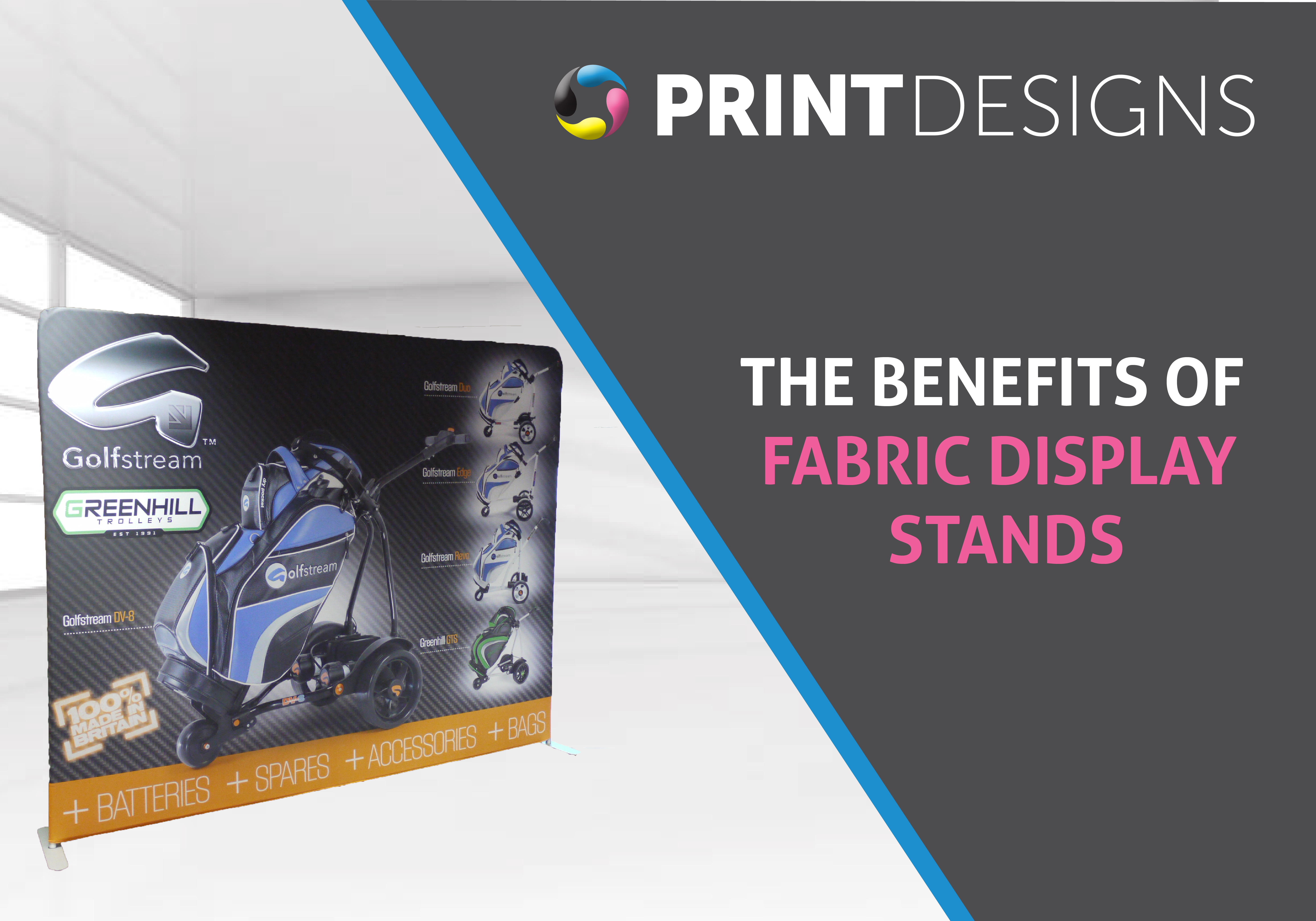 The popularity of display stands that utilise fabric graphics has grown significantly in recent years thanks to the number of advantages they can offer.
So what are the benefits of choosing a fabric display for your next event?
Guide Contents

Benefits of Fabric Display Stands:

What is a Fabric Display Stand?

---

Fabric display stands are a type of exhibition stand that can be used for promotional purposes in a wide range of spaces.

Easily stretched over and attached to a light-weight and durable aluminium frame, the fabric graphic is printed on high-elastane content polyester which produces a vibrant and durable print.

Fabric pop up display stands can be used for creating backdrops in exhibition areas, partitioning spaces, for use as a counter or point of sale, and for many other uses.

Quick and Easy to Assemble

---

Fabric displays are arguably more straightforward to assemble than traditional pop-up stands, many of the Fabric Display Stands we offer are extremely easy to assemble and can be set up in under 5 minutes by one person without the need for any tools, so you won't have to waste valuable time aligning clip-on graphics to your stand.

Main sections of the frame are pre-connected together with elasticated bungee cord and the remaining parts simply push-fit together using a small button connector to lock in place. The separate sections of the frame are labelled with coded stickers on the ends that match up with one another. This means that you can tell instantly which sections of tubing fit are intended to fit together when constructing the frame.

To complete assembly, the fabric graphic is pulled over the frame and this is then zipped up to ensure tension is maintained.

---

Fabric display stands are not just portable but they're lightweight, easy to carry, assemble and take down making them a better solution to traditional display stands.

The graphics can be folded and packed away along with the framework without the risk of damage due to creasing. Unlike traditional displays that utilise heavy, rollable panels there is no need for a large wheeled case as all of the frame components and the graphic pack away into a single holdall bag that is small enough to carry by hand.

Longevity

---

You may find that your traditional display stand can appear a little battered, scratched or creased after all that assembling, dismantling and transporting, whilst the graphics on fabric displays can be damaged if not handled correctly they are far more forgiving.

The aluminium frame is sturdily built and should last for a number of years and our dye sublimation printing process puts the ink into the fabric meaning that the graphics can be washed and will still retain their vibrant appearance for years to come.

---

In bright well lit spaces like exhibition halls there is always a risk of vinyl graphics being difficult to see due to the glare from the lights.

Fabric graphics will ensure no glare in any light, which means they are always fully visible, a huge difference when compared to vinyl displays.

They also work especially well for any backdrops uses for photography as you won't get the reflection.

High Impact Seamless Finish


---

Despite being relatively small and lightweight to carry around, fabric display stands, once assembled, are a visually striking display due to their impressive stature, unique shape and highly vibrant printed graphics.

The graphics are printed in one piece and unlike traditional pop up displays can be printed double sided to allow for a different design on each each side.

The fabric graphic pulls over the tubular aluminium framework like a giant pillow case to completely cover any framework to allow for a frameless and seamless finish.

Versatility


---

Fabric Display Stands are extremely versatile to a number of display environments, because they are highly portable due to their lightweight frames and rapid build and break down times. They can be used in a variety of different locations and settings again and again, making them fantastic value for the investment.

As well as off the shelf frame sizes, modifications can be made to the assembled height or width for those customers with specific requirements. For example, we frequently supply reduced height frames for customers using this type of display in shopping centres where there can be height restrictions.

If you are looking for a custom size, just get in touch and we will be happy to help.

Eco-Friendly

---

Changing graphics is effortless so if you want to update your branding you can do so by simply purchasing a replacement graphic, saving you time and money without having to buy a brand new display.

Furthermore should your print become dirty or marked, it's possible to machine wash fabric graphics at 30 degrees in a conventional machine. Just air dry it afterwards.

The materials used to make fabric displays are also eco-friendlier than standard pop-ups, as the frame and graphics are 100% recyclable.